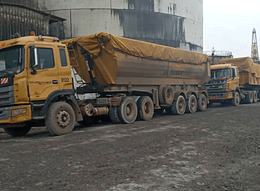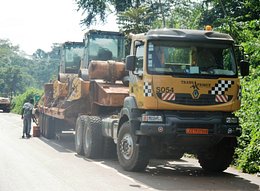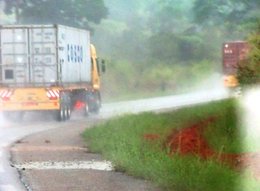 Our Silo fleet works under contract most of the time transporting Bulk Cements.
Lowbed cargo and transport is specialized and we provide all the tools and expertise to load and transport most of the heavy loads entering Douala and Kribi Ports.
Our trailers and tractors can facilitate Big or Small heavy cargo up to length's of 25 Meters. Our loads vary from local - projects in and around Douala and Yaoundé - to destinations including CAR and CHAD. We also service Gabon with heavy transport requirements.
3 - SILO TRUCKS & LOWBEDS
Flat bed trucks are the most common in Cameroon and we transport loads not exceeding 30 Ton. Cargo vary from port import and export containers including:
Wood Logs
Wood Sawn Timber
Bagged products
General Cargo
Bulk Bags
Humanitarian Cargo
Our tipper fleets are equipped with both 3 and 4 axle back tip trailers. We are moving capacities in and through the Cameroonian borders with weights - 28 -30 -42 tons.
We transport commodities including:
Clinker
Limestone
Mining Minerals
Dry bulk stone / sand
Wheat